Consultant UPlink Partners
The role of AV consultants is often vital to the success of a systems design. That is why Crestron has a dedicated team of Consultant Market Managers to meet with you, our consultant partners, to discuss critical project requirements, review new product specifications, and to listen to how we can further develop our products and provide the best possible solutions to your clients.
We are proud to bring you a team with extensive industry knowledge, product experience, and the drive to support your organization.
Please take a quick glance to be familiar with who calls on your regional territory.
Meet Your Regional Consultant Market Managers Team:
Crestron Northeast
Michael Goldman
617-335-0818
Crestron Mid Atlantic
John Heffelfinger
610-488-1610
Crestron Southwest
Don Baughman
972-512-0816
Crestron West
Antonio Dias
714-763-1358
Eric Solorio
562-685-6481
Crestron Midwest
Michael Frank
847-631-2733
Crestron Canada
Peter Woods
877-732-7378
Who's Who in the Crestron Technical Sales Team
The Crestron Technical Sales team located at NJ headquarters is an additional resource for our consultant partners. Our team of professional design engineers are here to provide hardware and software proposals for your bid specifications as well as to answer any product and design questions.
General Contact:
Jessica Lang
Technical Sales Administrator
800-237-2041 ext. 10294
Please send all your bid specifications to Jessica and we will provide Master Proposals. At your request, we can also pre assign quote numbers to your projects for your convenience.
Ray Coneys
Director of Technical Sales
800-237-2041 ext. 10330
System Design Engineers:
Ray O'Sullivan
800-237-2041 ext. 10241
Derek Holbrook
800-237-2041 ext. 10307
Paul Beals
800-237-2041 ext. 10394
John Givelis
800-237-2041 ext. 10251
Scott Patterson
800-237-2041 ext. 10342
Todd Norville
800-237-2041 ext. 10216
Vince Bernatowicz
Commercial Lighting
800-237-2041 ext. 10298
Beth Venditti
Market Development Liaison
800-237-2041 ext. 10285
Website Links
Please note: you must be logged in as a Consultant UPlink partner to access some of the links below. For help, please read this website tip.
Latest Products - Pricing and Product Release Schedule
2006 Integration Award Winners Announced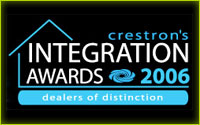 Crestron's Integration Awards are designed to honor the achievements of residential dealers that have embraced Crestron Total Home Technology solutions. They are responsible for some of the most spectacular and innovative home installations. More than 130 entries from 20 states and 4 countries submitted applications for 14 different awards.
Here are the very best in the industry:
Creative GUI
Howell and Associates
Ontario, Canada
Brilliant Lighting
e-home
Ridgefield, NJ
Most Extreme Makeover
DSI Entertainment Systems
Studio City, CA
Home Sweet Home Theater
Playback Audio & Video Creations
Raleigh, NC
Innovative Design
Solstice Multimedia
Denver, CO
Hi-Rise Living
Baumeister Electronic Architects
Niles, IL
Biggest, Baddest Home
Creative Systems
Lititz, PA
Ultimate Connected Home ($750K +)
Bliss Home Theater & Automation
Westlake Village, CA
Ultimate Connected Home ($500K - $750K)
Sound Solutions
Culver City, CA
Awesome Audio
Absolute Audio, Inc.
Charlotte, NC
Awesome Adagio
Innovative Audio
Carlsbad, CA
Engineered Home Solution
Audio Command Systems
Westbury, NY
Integrated Home Solution
Electronics Design Group
Piscattaway, NJ
Crestron True Award
Ultimate Sound & Installations, Inc.
Long Island City, NY
Learn more about each winning entry at:
www.crestron.com/integrationawards



Highlights from Crestron's booth at CEDIA
Why should a consultant worry about what's been introduced at CEDIA given that so few AV consulting firms work in the home market? Two reasons:
1. A lot of these products have applications in the commercial realm. Understanding them can give you a leg up on competitors who don't.
2. More and more consultants are designing advanced AV systems in luxury homes and especially in multi-dwelling unit projects. There's money to be made by firms who jump into those markets.
With those two thoughts in mind, let's look at what Crestron introduced at CEDIA this year-and let's review the winners of Crestron's second annual home integration awards, also announced at CEDIA.
TPMC-8X WiFi Touchpanel
Crestron's new TPMC-8X Isys i/O(tm) wireless touchpanel is truly revolutionary! It features the Windows® XP Embedded OS and 802.11a/b/g Wi-Fi technology with WEP encryption to deliver a 2-way wireless control solution with blazingly fast performance and native capabilities for browsing the Internet, streaming multimedia, and much more.
The embedded PC platform enables web access via Internet Explorer, streaming media using Windows Media® Player 10, and full PC applications while still providing intuitive control of AV distribution, lighting, HVAC and security systems. The TPMC-8X also lets you use NetMeeting® and Skype(tm) for interactive conferencing and voice-over-IP (VoIP) communications - right on the touchpanel. Plus, support for Yahoo! Widgets affords an easy solution for integrating everything from calendars and clocks to stock tickers and thousands of other fun and useful utilities.
The TPMC-8X includes an 8.4" SVGA color screen, built-in stereo speakers, dual microphones, and a stereo headphone jack. It also features a built-in fingerprint scanner unleashing a whole new level of convenience and security, allowing individual users to be identified instantly and logged on automatically. There's even built-in Bluetooth® technology enabling the use of a wireless mouse, keyboard, and other devices.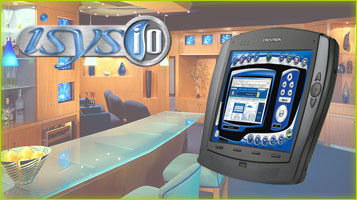 TPMC-4X WiFi Handheld Touchpanel
You've probably seen or read about this terrific new 3.5" wireless touchpanel. In a modern-looking handheld form factor, the TPMC-4X delivers 2-way WiFi wireless performance, which means you get true feedback, dynamic text, and dynamic graphics! And - another first for a wireless touchpanel of this size - its native MJPEG viewer enables wireless video capability so you can view live camera images and other video sources right in the palm of your hand!
At CEDIA, Crestron showed how the TPMC-4X could fit into a whole-house automation system; but, it also delivers a powerful interface that lends itself to many creative uses in a boardroom or training center. The TPMC-4X can be used with any Ethernet-enabled 2-Series control system, communicating via a dedicated 802.11b access point, making it ideal for controlling a home theater or boardroom. Programmable backlit hard buttons, plus 5-way thumbpad and 3-way toggle wheel, provide a versatile and ergonomic tactile user interface. Its bright color display supports 16-bit graphics with PNG translucency for truly striking effects. Dynamic text and graphics, onscreen keyboard, and included stylus makes the TPMC-4X perfect for searching music and movie titles - complete with cover art - from any media server.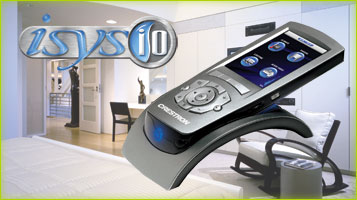 TPS-4L Compact Wall Mount Touchpanel
Crestron's latest Isys® touchpanel delivers amazing performance in a compact size. The TPS-4L packs a bright, high-contrast 3.6" active matrix color touchscreen with vibrant 16-bit Isys color graphics and 10 backlit pushbuttons.
The TPS-4L offers an ideal user-interface for controlling everything from audio distribution to complete home automation, providing a wide-open canvas for the creation of custom control screens perfectly tailored to the needs of the end-user.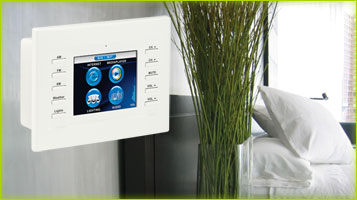 Adagio(tm) Media System
Fulfilling promises that "audio is just the beginning", Adagio is expanding into a complete audio and video distribution system. This system is not just for the home but perfect for the office space too.
The new Adagio Media System (AMS), features the signature Adagio integrated architecture including built-in tuners, amplifier, multi-room processors, and the ability to accommodate a full range of audio and video sources. Plug-and-play compatibility with Crestron's Adagio Audio Server (AAS), CEN-IDOC iPod® interface, and plug-in tuner cards for AM/FM, XM and SIRIUS® Satellite Radio deliver instant access to entire libraries of music with full capability for browsing by album, artist and song title.
Better still, AMS includes a Crestron 2-Series control system, an e-Control® web browser, and Ethernet connectivity. An enhanced AMS-AIP (Advanced Image Processing) model adds high definition video scaling up to 1080p, on-screen display, and Audyssey MultEQ® advanced automatic equalization. Both AMS products offer the same out-of-the-box functionality that makes Adagio the easiest home entertainment system to install and the most versatile to expand. Control either from the front panel, Crestron 12-button keypads and/or the advanced APAD Wall Mount LCD Controller.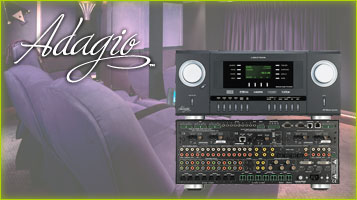 infiNET(tm) Lighting Controls
Crestron continues developing new products operating on our exclusive infiNET mesh networking technology, based on the new IEEE 802.15.4 wireless protocol.
By eliminating the need for physical control wiring, infiNET dramatically cuts the cost of installing automated dimming systems, particularly in home and office retrofits. infiNET's unique wireless infrastructure, where each component includes both a receiver and repeater of shorter-range RF signals, also adds to the system's stability and reliability.
At CEDIA 2006 Crestron showcased the infiNET dimmer controls and introduced an infiNET wireless thermostat (CHV-TSTATRF), a floor lamp dimmer (CLF-DIMRFB) and other control products. infiNET is ideal for integration into a whole house automation system and for many commercial applications as well.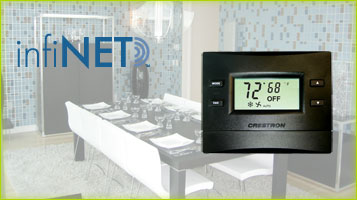 PAC2M Professional Automation Mini Control System
Crestron couldn't attend CEDIA 2006 without unveiling a new 2-Series Control System. Designed for small lighting and automation applications, the PAC2M is a more compact, lower-cost alternative to the flagship PAC2. At half the size and a fraction of the cost, the PAC2M is perfect for multi-dwelling unit projects as well as individual meeting rooms and lecture halls.
The PAC2M can be installed in a CAEN enclosure or surface-mounted directly to a wall without an enclosure. A small Cresnet distribution hub is built-in to accommodate the connection of several remote lighting dimmers, keypads, touchpanels, and other Cresnet devices.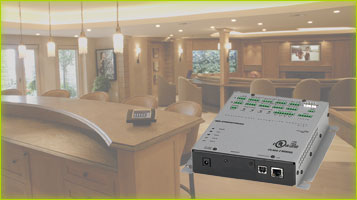 CEN-TIA Telephone Interface Module
The new CEN-TIA attracted huge crowds throughout the show. The latest telephone interface provides versatile telephone audio and control interface for home automation, multiroom audio distribution, and numerous other control system applications.
Enable speakerphone capability or caller ID information on your Crestron touchpanel and telephone paging capability to any Crestron Home® audio distribution system. The CEN-TIA's DTMF control interface also allows use of your mobile phone to remotely turn on lights, adjust air conditioning, and arm/disarm security.
Crestron Receives Industry Recognition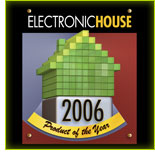 EH Product of the Year 2006
Adagio Entertainment System (AES)
The publishers of Electronic House magazine have selected Crestron's Adagio Entertainment System (AES) as one of its Electronic House Products of the Year for 2006.
The winners of this year's awards will be featured in the September Issue of Electronic House magazine, which will be distributed to thousands of attendees at CEDIA Expo as well as on newsstands everywhere.
The editors of EH Publishing's four connected home magazines chose their favorite products from among the hundreds of submissions. Judging was based on product demos, interviews with installers and users, and sometimes going out on a limb for products they found to be promising. Topping the list of criteria is technological innovation, outstanding features and overall value.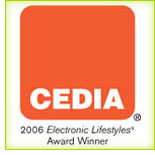 CEDIA Manufacturer's Excellence Award
Adagio Entertainment System (AES)
CEDIA's Electronic Lifestyles® Awards Competition is the most prestigious form of recognition in the custom electronics industry. These highly sought after awards are presented each year to recognize excellence in the custom electronics industry. This year, Crestron was one of only five companies honored, receiving a Manufacturer's Excellence Award for the amazing Adagio Entertainment System (AES).
Two qualified panels selected the winners. One panel made up of CEDIA residential electronic systems contractor members judging the technical side and the other panel made up of American Institute of Architect members judging on the design side.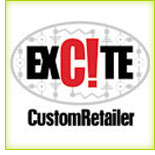 Exc!te Awards
Adagio - Most Exciting Product
Crestron - Most Exciting Home Automation System
CEN-IDOC - Most Exciting iPod Integration
The Excite Awards pay tribute each year to products that best exemplify the excitement and growth of the custom installation and consumer electronics industries. Recipients are selected through consultation among Custom Retailer's Editors and Contributors, as well as selected retailers and industry observers. Whether through exceptional innovation, outstanding value, market presence or market impact, the Excite Award winners have distinguished themselves as the leading lights of the business. This year Crestron received an unprecedented three awards. Crestron Adagio was honored as the "Most Exciting Product," CEN-IDOC won for "Most Exciting iPod Integration," and finally, Crestron was awarded the "Most Exciting Home Automation".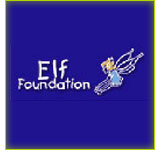 ELF Foundation
Volunteer of the Year
The Elf Foundation is a non-profit charity that brings the enchantment of uplifting music and film to children with long-term illnesses around the country. The foundation creates "Rooms of Magic" - beautiful private theaters - for Children's Hospitals so that countless special kids can experience evenings of laughter and delight. Crestron is a proud sponsor of the Elf Foundation and humbled to receive the incredible honor of Volunteer of the Year at the CEDIA Awards Banquet by such a remarkable organization.
To start integrating Crestron's amazing new products into your designs...
Your Crestron Regional Manager would love to sit down with you, answer your questions and help you to integrate these advanced new systems in a home or commercial environment. Please contact him now, or, if you're not sure who to call, Beth Venditti can help. Call her at 800-237-2041 ext. 10285 or email bvenditti@crestron.com.
Submit Your Installation Story
Take a few minutes to tell us about your amazing installation. Don't be modest. Brag about all the technology, the design, the programming and all the unique details. We would love to highlight it in our marketing materials or submit it to the trade magazines.
Use this handy online form to submit your story: http://www.crestron.com/shareyourstory

You are currently subscribed as blopresti@crestron.com.
To subscribe visit:
http://www.crestron.com/forms/crestron_news-subscribe.asp
To unsubscribe visit:
http://www.crestron.com/forms/crestron_news-unsubscribe.asp