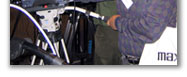 There is a feeling in some quarters that
show attendance is on the decline.
"We've been questioning our program,"
says Nellie Blair, president of Industrial
Video Corporation in Cleveland.
Yet at least one pro AV integrator –Snader and Associates of San Rafael, CA– continues to see growth in their annual Visual Solutions Expo. "Last year I shot for 650 - 700 people, but we had 804," says Kristen Pearce, Snader's marketing manager.
In general, those AV firms who see good show attendance:
• offer educational content that's truly useful to their customers.
• carefully aim each show to a specific target audience.
• aggressively promote their shows using a variety of media.
• find creative ways to keep costs low.
Read Don's article from Pro AV Magazine, "Capitalizing on Customer Events."